Duration: 1 hour 15 minutes
In celebration of our "50th anniversary of Mass Spectrometry", we are pleased to introduce the Mass Discussion Series focusing of the innovative uses of Shimadzu's mass spectrometry instrument. For this edition, we are so glad to invite Prof. Erich Leitner from Graz University to share his work on off-flavour compound analysis.
Off-flavors are not only give taints to food , but may also have an impact on human health. Generally, off-flavors are in trace amounts leaching from food packaging and/or food contact materials. In food safety market, determination of off-flavors and its concentration are essential in food production process, formulating conditions and also quality control. Join this Mass Discussion as Prof. Erich Leitner shares how his lab uses GC/GCMS to identify off-flavors from food contact materials.
Learning Objectives:
Introduction, impact and regulations on off-flavors in food safety
Understand how you can use GC/GCMS as an analytical tool to identify the off-flavors
Understand the benefits and limitations of different techniques
In Collaboration with:
Speakers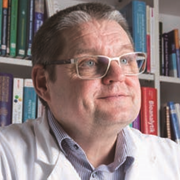 Prof. Erich Leitner
Institute of Analytical Chemistry and Food Chemistry
Graz University of Technology
Prof. Erich Leitner studied technical chemistry at the Graz University of Technology, Austria where he obtained a PhD in organic trace analysis and habilitation in "Food Chemistry". His research activities are focused on the identification of volatile and odour active substances in food and food contact materials. Currently he is head of the research group "Food chemistry and Human Sensory Analysis" at the Institute of Analytical Chemistry and Food Chemistry at the Graz University of Technology. In his research he combines the use of a trained expert panel and highly specific equipment based on gas chromatographic techniques for the identification and quantification of aromatic compounds.